The waste management industry might not be the most glamorous sector in the world, but for many of us it remains the 'fourth emergency service'.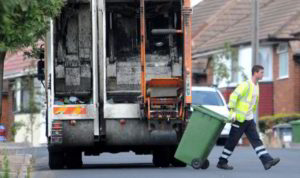 From collecting our weekly household to helping protect the environment by preventing waste from going to landfill, it plays an integral part in modern society.
But like any other sector that involves heavy machinery, physical labour and people working long spells outdoors it is one where accidents can, sometimes fatal, take place.
According to the latest set of annual workplace fatality figures, released by the HSE, there were 12 fatal injuries to waste and recycling workers between April 2017 and March 2018.
That number has gone down from 14 in 2016/17, but as the latest HSE report notes, despite waste management being a relatively small sector in terms of jobs, its annual injury rate over the last five years is 16 times higher (10.26 per 10,000 workers) than the average rate across all sectors (0.45 per 100,000 workers).
And the HSE figures also reveal that four members of the public suffered fatal injuries last year, which were linked to waste and recycling. Although the HSE figures do not list the specific details of each of these accidents, it is thought that several of these people died after falling asleep in bins or skips, which were then tipped into lorries or taken to recycling sites.
"People are placing themselves at serious risk of harm by sleeping or seeking refuge within waste containers," says Environmental Services Association Policy Analyst, Stephen Freeland.
"If undiscovered during the collection and tipping of the container into the back of a refuse collection vehicle the chances of survival are very slim.
"There are various means in which the industry can help address this issue, such as training of collection crews to check bins prior to uplift or raising awareness of the 'tell-tale' signs that someone might have sought refuge inside a container," adds Mr Freeland.
"Industry guidance is available through the Waste Industry Safety & Health (WISH) Forum on the control procedures which can help increase the chances of discovering people before a container is lifted and tipped into the refuse vehicle.
"While the waste management industry clearly has a role to play, an often-overlooked aspect is the legal responsibilities of businesses themselves – those that produce waste in the first place – who are duty bound to ensure that containers (and waste) are secure, both during storage and upon being presented for collection.
"Secure, locked storage areas should be used by businesses where available but where such facilities are not available, basic housekeeping measures could help reduce the likelihood of people accessing containers. Care should therefore be taken to avoid overloading containers with so much material that it prevents the lid from shutting and being securely locked."